US SPORTS BETTING: ALACRIA IS OUR CRYSTAL BALL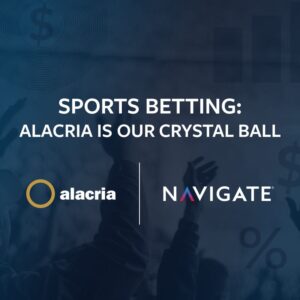 As sports march on after a challenging 2020, there is a lot of optimism across the industry as the COVID year forced teams and brands to find creative ways to engage fans beyond physical experiences. One major method of engagement that has proven to be extremely lucrative is sports betting. For perspective, according to a report from Eilers & Krejcik Gaming, sports betting revenue is up 360% YTD as 56% of the population resides in a state where sports betting is now legal. While total revenue sits at around $2.5B per year, experts estimate that could increase to $10B by 2025 and potentially $19B if legalized in all 50 states.
Sports betting is far from a typical consumer industry, nor is its relationship to sport one that can be considered traditional in terms of sponsorship.  As we've all seen, the industry has had to overcome many statutory, ethical and integrity-related hurdles to get to this point.  It will likely face many more as sentiment toward the role betting plays within sport shifts over time. According to data from GWI, 7.6% of sports fans in Pennsylvania, where sports betting is legal, believe that it's a big issue in society, while only 4.8% feel the same in Texas, where sports betting is still illegal. This is one indication of a broader trend, where consumer sentiment towards the industry has been seen to shift negatively as time goes on following introduction.  This is the experience of overseas markets, including Australia, where consumer sentiment swung dramatically and quickly against the industry. Many countries in Europe are now seeing government intervention to restrict sports betting promotion, such as the ban on sponsorship in Italy and current review in France following UEFA's European Cup competition.
Even without full legalization, sports betting companies have found ways to be front-and-center at a national level through engaging and creative partnerships within sport. Look no further than Bally's $85M deal with Sinclair to buy naming rights to 21 Fox-branded regional sports networks, or the recent Barstool deal with the Arizona Bowl to be the exclusive title sponsor and broadcast partner of the college football game. Couple that trend with COVID accelerating additional player branding opportunities across the NBA, NHL and MLB, and it's only a matter of time before the U.S. sports market begins to look a lot more like markets across Europe and Australia in terms of sports betting saturation across sports sponsorships.
Sports Betting Strategic Partnership Duo
In the spirit of continuing to help our clients "peek around the corner", Navigate is teaming up with alacria, a strategic management consultancy specializing in strategy related to sports media rights and engagement, to help our U.S. clients prepare for the future. Sports betting in Australia, where alacria was founded, was legalized in most states in2001 and national promotion was approved in 2008, so they are well ahead of the U.S. in terms of life cycle. This provides us with an interesting 'crystal ball' into the industry and its relationship with leagues, teams, athletes and broadcasters alike.
Specifically, the alacria team has been at the forefront of the development of the sports betting industry in Australia, along with experience in structuring, selling and managing a range of deals across various markets around the globe. Their experience in the development of commercial partnerships, broadcast innovation, brand and issues management, integrity, product structure and fee agreements, coupled with our market insights into consumer behavior within the U.S., will provide our clients with a unique and insightful perspective.
In Australia the sentiment towards sports betting went from ambivalence to outcry in a very short space of time. According to alacria, the brands and properties alike were slow to respond and did not actively self-regulate against proliferation of advertising and odds integration into content. This led to public outcry and government intervention that dramatically limited how sports betting could advertise and partner with sport. We are now seeing a range of restrictions, many self-imposed by sports books, including advertising volumes, limits as to when betting odds can be promoted, legislation making free bet vouchers illegal, and prevention of messaging to underage fans, including blackout periods.
The best way to prepare, alacria says, is to proactively self-regulate and implement strategies that monitor and respond to consumer sentiment through a framework that includes an Issues Management Plan. This can be used when issues arise to ensure teams, leagues, broadcasters and sports books have a single message and approach to market. Additionally, the theme of all messaging should be dynamic in nature and linked as closely as possible with community sentiment.
Sponsorship strategy is also influenced by sentiment. Making smart decisions about the assets included in a deal, and the volume of promotion, is at the heart of a strategy to manage fan attitudes and ensure long-term value. Sports also need to consider the evolution of the market. Rationalization, such as Penn National's acquisition of Score, and DraftKings' buying Golden Nugget Online, is likely to create fewer, larger players with deeper pockets fighting over an eventual national market. In other markets this rationalization has led to increased sponsorship spend, suggesting shorter terms on current deals is the best approach, counter to what many are planning for in the US.
Over the next few months and years, Navigate and alacria plan to track U.S. sports betting sentiment through new primary research while building dynamic Issues Management Plans for key stakeholders as the sports betting marketing place continues to evolve. Our hope is that together we can help the industry maintain its attractiveness as an engagement vehicle while continuing to build community trust, which is a parlay we can definitely get behind!
We Want to Hear From You
To kick this partnership off, the Navigate and Alacria teams will be hosting an internal lunch and learn session on August 16th to gain knowledge in the sports betting space. We want to hear from you, our clients and industry friends, on what questions or topics you would like to know more about in regard to the sports betting landscape.
Please submit your questions by Friday, August 13th to [email protected].