The future of sports business has to be digital: David Gallop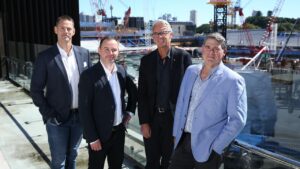 Australian sports need to be careful not to cut costs too much or risk losing market share, according to former soccer and rugby league boss David Gallop, who says the days of taking a "scattergun" approach to communicating with fans and members also has to end.
Gallop says he has been impressed with the resilience of many Australian sports during COVID-19, but warns with corporate budgets tight and broadcast revenue likely falling sports need to look for a better way to monetise their relationship with fans and members to shore up their revenues.
That, Gallop says, needs to come from having a better understanding of fans and paying members, what they will spend money on and how they will engage with the sports.
Like Amazon, the global retail giant that has a deep understanding of its customers and tailors the sale and products to their members digitally, sports need to take a more individual approach.
"Sports have tended to still take a bit of scattergun approach to communication. Every member gets an email and so on. They need to be looking at a more personalised approach and the technology for that," Gallop tells The Weekend Australian.
"Like nearly every business a deeper digital offering is what everyone is looking for in sport. The sports that truly give their fans a deep experience will set themselves up well in the future, while still maintaining the need for traditional revenue drivers (such as broadcasting contracts) to be strong."
Having stepped down as chief executive of Football Federation Australia at the beginning of 2020, Gallop has since become a board member of ASX-listed wagering giant Tabcorp and Cricket NSW. This week he became chairman of start-up sports technology and consultancy business Alacria, founded by a group of former Australian and international sports executives.
Alacria is building its own proprietary technology or software, for which it is currently raising several million dollars from wealthy investors or family offices to roll out this year. It says by using artificial intelligence the technology will allow sports to automate and personalise their messages to fans, and in revenue terms, take a more targeted approach in selling tickets, merchandise, membership and other offerings.
The firm's management, which includes former FFA commercial boss Luke Bould, has spent the past year talking to current and potential sporting clients and believe their technology is unique enough to raise funds for its expansion.
Gallop says the need for sport to have a greater connection to fans and members has been heightened because of COVID, which has caused big revenue cuts. Simply, sports need to find more diverse revenue sources.
"COVID was certainly unprecedented and there must have been moments where clubs and sports were worried where the next dollar would come from. In that respect the way it was handled by and large and the way it has recovered is a credit to the sports. That said, I think it's brought a sharper focus on all aspects of the business of running sports,'' Gallop said.
"That obviously coincided with further fragmentation of the media landscape and the uncertainty around those revenue streams. There are a number of examples where it allowed a rationalisation of the cost base, and it will be interesting to see how that plays out because sports need to be well resources because of the competitive nature of the market in Australia. Sports needs to be careful not to shrink to a point where they lose a competitive edge."
Therefore the need to both shore up its existing fanbase or membership numbers and grow their participation levels in the future, and convert more players into paying fans.
Alacria is also growing outside Australia, appointing Philip French, a former director of international relations and development programs at the International Olympic Committee to head its operations in the UK and Europe. Jim Isch, a former National Collegiate Athletic Association (NCAA) interim president and chief operating officer is joining the business as a strategic adviser in the US, where it is helping improve cricket participation numbers.
While Gallop, who also was the CEO of the NRL and deputy chairman of Sport Australia, now has three board appointments, he says is keen for other potential roles.
"I'm keeping my eyes open to other opportunities but at the moment coming on board with these guys (at Alacria) helps me stay connected in a multi-layered sense to sport. They have got some exciting ideas and opportunities."